Holy Stone HS600 4K Camera with Gimbal 3KM FPV Drone
Holy Stone HS600 Drone with 4K Camera 2-Asix Gimbal EIS 3KM FPV-Drone 56 Min Long Flight Brushless Motor 5G Transmission GPS Safe Flight.
4K Camera with Gimbal and EIS: Equipped with 4K Camera and Sony Sensor offering ultra-high-definition footage and greater freedom in image layout; 2-Axis Gimbal plus EIS system help to create pro-level videos that are consistently stable, clear, and smooth.
3KM FPV Relay Transmission: The 5G Relay FPV transmission technology brings higher image clarity and better stability, avoids signal loss, achieves max 3km FPV transmission range; Optimized controller provides a high-brightness display, letting you have full control of the fly condition.
Level 5 Wind Resistance: Assisted with a GPS system and 4 powerful brushless motors, HS600 will ensure you explore wonderful further distances and automatically fly back when it is out of control, low power, or fly out of range, giving you a worry-free fly experience.
Smart and Fun: Features with Follow Me, free your hands to take complex shots; Point of Interest to take a 360°shot for the subject you set, and Tap Fly let the drone automatically fly with a customized route.
Enjoyable Design: Includes 2 intelligent batteries support up to 56 minutes fly, HS600 can be folded and packed with accessories in the carry case, easy to take it anywhere.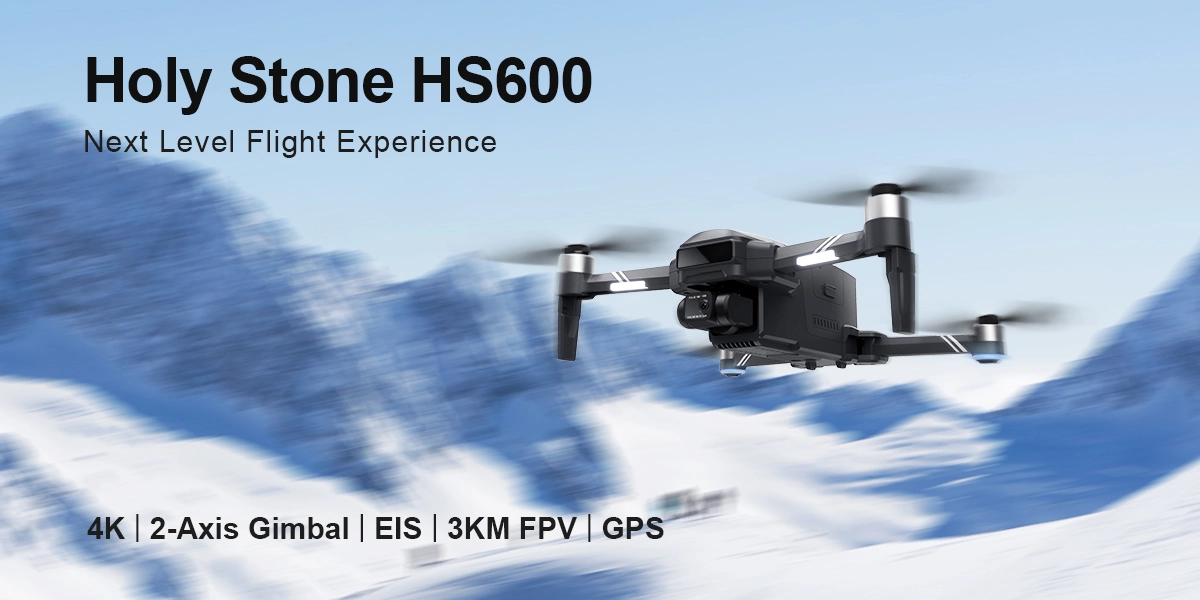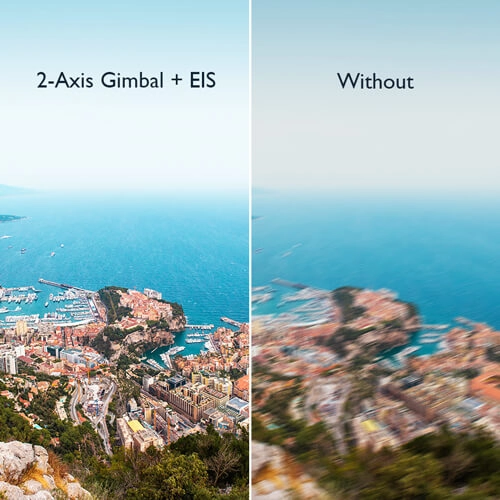 Pro-level Camera
Holy Stone HS600 drone 4K camera with 2-axis gimbal and EIS tech enables you to get pro-level photos and videos, take you back to travel time, enjoy a visual feast.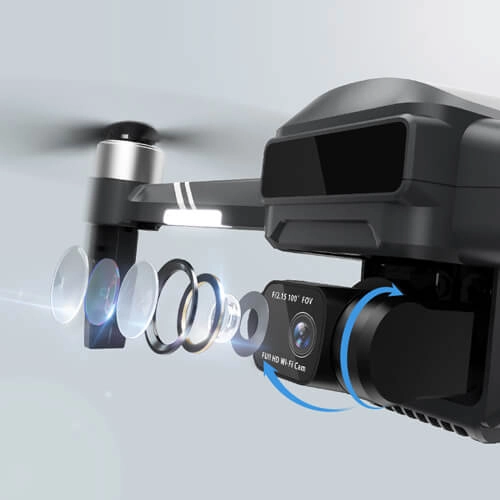 80°Tilt Angle and 100°FOV
-80°~0°tilt angle to see more around, enjoy unfettered vision. The wide-angle fixed-focus lens adapts to a variety of scenes and presents a broader field of view, whether it is city, nature, day, or night.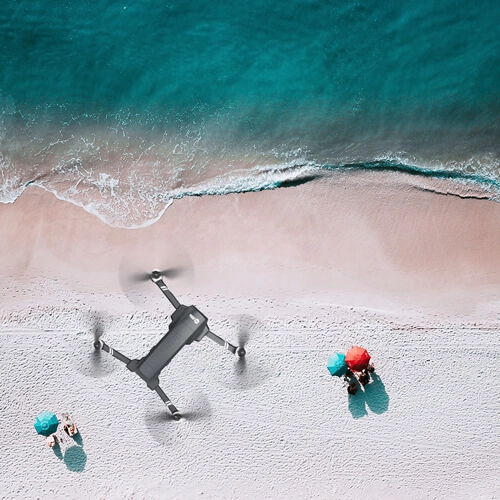 No Worry Winds
You can fly steadily anywhere, it can be resistant to level 5 wind with GPS and a powerful brushless motor.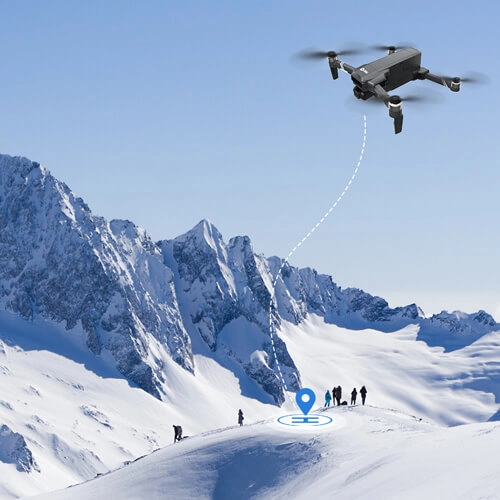 GPS Safe Flight
Very safe for beginners with GPS auto return home by one-key return, or in the low-power, signal-lost situations. Always keep precise positioning and altitude hold, easy for all-levels pilots.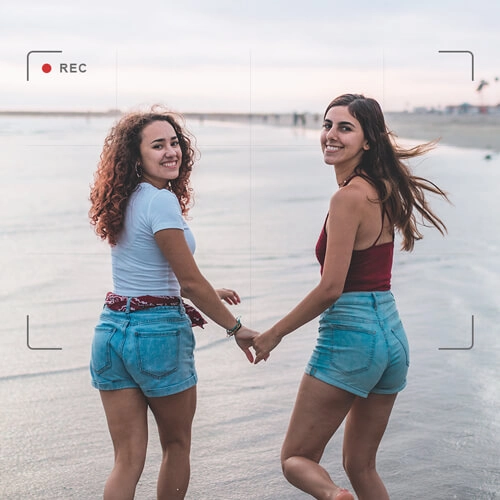 5 Times Zoom
Zoom 5 times to capture your smile while keeping a safe distance, you can control the lens like experts, and the app can record the operator's voice in life to create a vivid memory.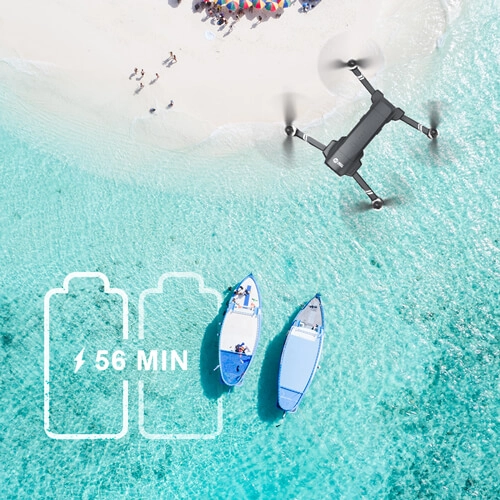 2 Batteries for 56 Min
Long-lasting flight time for exploring more in 3km distance, for beginners to practice well, also for experts to obtain more footage.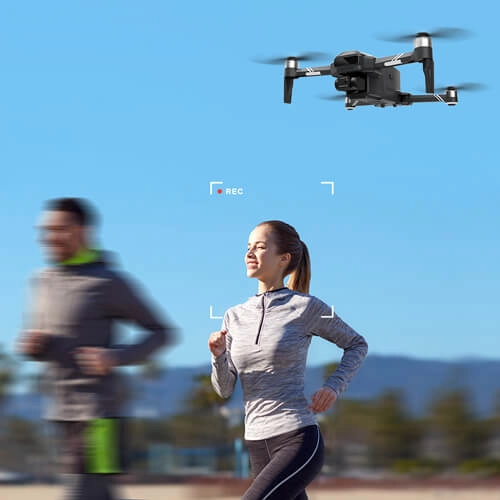 Follow Me Mode
Free your hands and let the drone follow your steps to record your wonderful moments.
Point of Interest
Easy to keep your target in the center of the picture, perfectly show the beauty in 360°to your audience.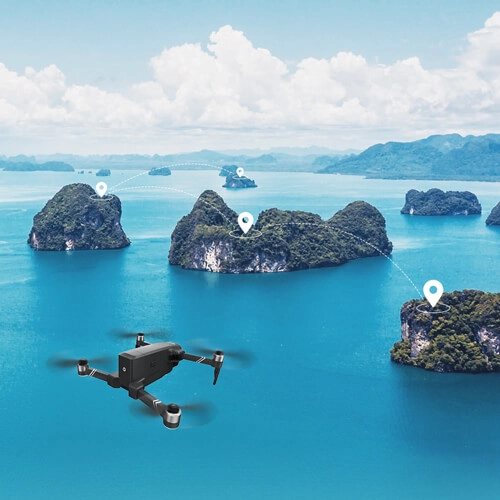 Waypoints Fly
The drone will follow the preset point in the map to complete a flight path that is consistent.
Dimension:
202*95*80 mm(Folded);377*260*80 mm(Unfolded)
Flight Time:
28 minutes per battery
FPV Distance:
6500~9800 feet / 2000~3000 m
Flight Distance:
6500~9800 feet / 2000~3000 m
Camera Frequency:
5.15-5.35 GHz, 5.725~5.825 GHz
Camera Angle:
Tilt: -80° to 0°, 100°FOV
Photo Resolution:
4K(3840x2160P) stored in TF card; HD3840x2160P (stored on mobile phone)
Video Resolution:
Video: 4K(3840×2160P) stored in TF card; HD1280×720P (stored on a mobile phone)
Live View Quality:
4K@30fps
Max Expansion:
128GB TF Card (Not Included)
What's In The Box ?
Drone and Transmitter
Drone Batteries
Extra Propellers
USB Charging Cable
Gimbal Cover
Tool for fixing propellers
Instructions for Use
BRAND NEW
ONE YEAR WARRANTY 
STOCK IN AUSTRALIA
AUSTRALIAN SELLER
Sold Out

Save
33%

Sold Out

Save
39%

Sold Out

Save
25%

Sold Out

Save
33%

Sold Out

Save
26%

Sold Out

Save
41%

Sold Out

Save
45%

Sold Out

Save
28%

Sold Out

Save
29%

Sold Out

Save
16%

Sold Out

Save
17%

Sold Out

Save
20%

Sold Out

Save
29%

Sold Out

Save
11%

Sold Out

Save
46%

Sold Out

Save
73%

Sold Out

Save
21%

Sold Out

Save
12%

Sold Out

Save
42%

Sold Out

Save
31%

Sold Out

Save
49%

Sold Out

Save
44%