Arzopa A1 Gamut Slim 15.6 inch FHD 1080P 178°IPS Multifunction Portable Gaming Monitor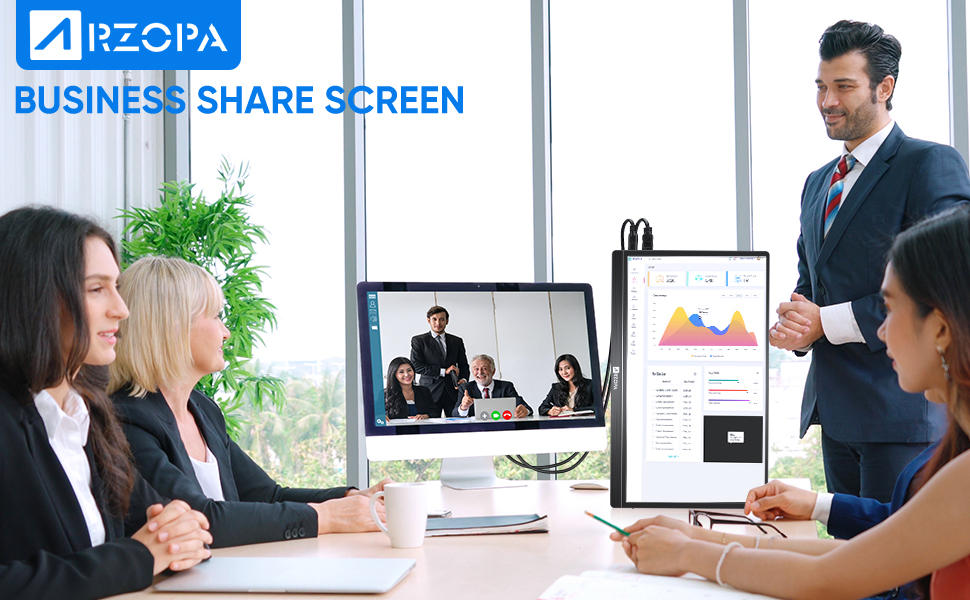 ARZOPA 15.6'' FHD PORTABLE MONITOR FOR LAPTOP, PC, Smartphone, Tablets
Warm Tips:
When you connect with your smartphone, which must have a full-functioned type-c port, only need to use USB-C to USB-C cable to connect. (iPhone needs lighting to HDMI adapter).
When you connect a laptop with a full-functioned type-c port, only need to use USB-C to USB-C cable to connect. (Left USB-c port of monitor for data transfer and power supply, right c port only for power supply).
When you connect a laptop/pc with an HDMI port, you need to use Mini HDMI to HDMI cable to connect a monitor and your device for data transmission, use USB-A to USB-C cable connection for data Transmission. USB-A side connects the adapter or power supply device, USB-C side connects your portable monitor.
When your laptop/pc or smartphone is 720P, the monitor images will show 720P resolution. You need to adjust your device to 1080P resolution, the portable monitor will show 1080P vivid images.
Press "Windows + i" to enter into setting on pc/laptop, adjust display direction (landscape/portrait), resolutions. Press "Windows + P" to enter into display mode (duplicate, extend, the second screen only) to choose.
The USB c portable monitor does not built-in battery, just plug and play.
1080P FHD Monitor with HDR

The FHD portable display features 1920*1080 resolution at 60Hz, 300cd/m² Brightness and 1000: 1 Contrast Ratio, 100% SRGB color rendering ability. The HDR mode and Scene mode supports excellent mainstream transmission so that you can enjoy unprecedented gaming performance.

IPS Eye Care Second Screen

ARZOPA external monitor adopts a 178° ultra-wide viewing angle IPS panel that maintains exceptional color and contrast. It can effectively reduce blue light radiation damage, no flickering, eye-care, and make it easier to watch for a long time.

Ultra-slim, Lightweight

ARZOPA portable display is only 1.7lb and 0.3 inches slim profile, it is easy to put it to your backpack, briefcases. Not only improve work efficiency and save your time but become the ideal travel companion for entertainment.
Landscape and Portrait Mode

Our portable computer monitor allows you to plug and play in seconds. It can work in both landscape and portrait mode by setting on your devices and delivers you a perfect viewing experience when browsing, editing, or watching.

Portable Laptop Monitor

This 15.6-inch portable monitor with a dual USB type-c port and mini HDMI port can be used as a second screen for a laptop. If your laptop with a full-functioned USB-C port, only one cable solution. If with USB-A and HDMI ports, it needs USB-C to USB-A cables for power supply and Mini HDMI to HDMI cable for data transmission.

Extend Your Phone Screen

HDMI portable monitor is compatible with USB Type-C mobile phones, it needs just using one USB-C cable to achieve the screen mirroring on the phone and monitor. It works well to scale up your smartphone, you can choose a desktop mode or phone mode.
Wide Compatible

Equipped with mini HDMI and Dual USB Type-C ports, ARZOPA USB-C portable monitor compatible with most Laptops, PC, smartphones, Gaming Devices like ps4, Xbox, switch, etc. Just plug and play in a second. Sometimes you need just one USB cable to get it working.

Smart Magnetic Cover

Comes with a scratch-proof magnetic smart cover made of durable PU leather exterior. Not only provides comprehensive protection for this portable computer monitor but also supports two angle viewing style. Note: Phones without a full-function Type-C port require an adapter to connect; It's suggested to plug in the power for better use.

Built-in Dual Speakers

You can completely indulge in the clear and beautiful sound and enjoy the strong and clear sound coming from both sides. Equipped with 3.5mm audio inputs, a 3.5mm headphone jack outputs audio from movies, music, and games Offers stunning stereo sound.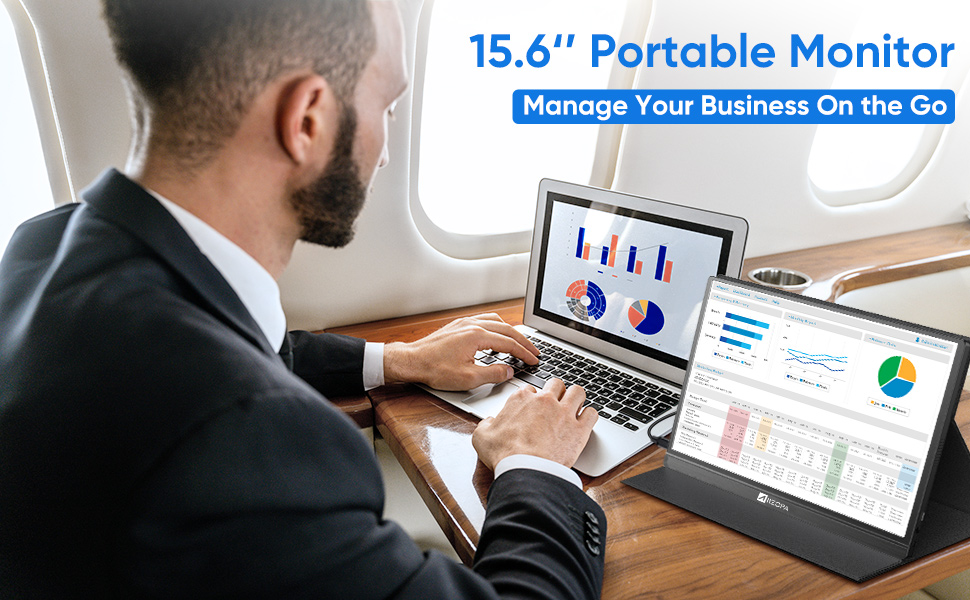 Compatible Laptop Models:
Apple: MacBook 12 /2015 /2016 /2017 Pro MackBook Air 2018 / iPad Pro 2018-2020
HUAWEI: MateBook D / MateBook E / MateBook X / MateBook X Pro / MateBook 13 /MagicBook
Microsoft: SurfaceGo / Surface Book 2
ASUS: ZenBook 3 / ZenBook 3 Pro / ZenBook X / U4100 / U4100UN / AU5100UQ
MI: Mi Air 12.5 / Air 13.3 / Pro 15.6 / Pro 15.6 GTX
Lenovo: Y7000 / Y7000P / Y900K / YOGA / ThinkPad X1 / Carbon / MIIX 720 /Youga
HP: Elitebook 1050 G1 /Elitebook Folio G1 /ENVY13 / Spectre13
DELL: G3 / G5 / G7 / Inspiron 5000 / Inspiron 7000 / XPS13 / XPS15 / Latitude 5285
Google: Pixelbook
Razer: Blade Stealth / Blade Pro
Nvidia: Geforce RTX 2070 / Geforce RTX 2080 / Geforce RTX 2080Ti
More: To be updated. Compatible with most PCs or Laptops.
Compatible Phone Models
Apple: It supports connection with iPhone, but a Lighting to HDMI adapter is needed.
HUAWEI: P20 / P20 RS / P20 Pro / P30 / P30 Pro / Mate 10 / 10 Pro / 20 / 20 X / 20 Pro / 30 / 30 Pro / RS /V20 /Note 10
Samsung: S8 / S8+ / S9 / S9+ / S10 / S10+ / S20 / Note 8 / Note 9 / Note 10 / Note 10+
Razer: Razer Phone / Razer Phone 2
OnePlus: OnePlus 7 / OnePlus 7 Pro / OnePlus 7T
Sony: Xperia 1 / Xperia 5 / Xperia XZ3. NOKIA: NOKIA 9 Pure / View. ASUS: ROG / ROG2. OPPO: R17 Pro. LG: G5 HTC: U Ultra
More: To be updated. Compatible with Switch / XBOX / PS3 / PS4 / PS5 etc.
What's in the box
1 x ARZOPA 15.6" Portable Monitor
1 x USB-C to USB-C Cable (Full-functioned)
1 x Mini HDMI to HDMI Cable (For data transmission only)
1 x USB-C to USB-A Cable (For power supply only)
1 x Screen Cleaning Cloth
1 x User Guide Kit